Imprinted Detailed DVIR w Illustrations Refuse Vehicle Inspection Report 2-Ply Carbonless Snap-out 157-FS-I2
Satisfy DOT Vehicle Inspection regulations 49 CFR §396.11 and §396.13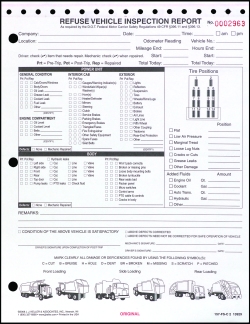 157-FS-I2
View PDF Sample
Use this Imprinted Detailed DVIR w Illustrations Refuse Vehicle Inspection Report 2-Ply Carbonless Snap-out 157-FS-I2 to help comply with 49 CFR §396.11 and §396.13. This DVIR includes common refuse truck components for the body, tire positions and added fluids.
Also includes illustrations of the three main body styles: front, side and rear loading units. Consecutively numbered with 7 digits.
Specifications
Snap-out Format
2-Ply
Carbonless
Overall Size: 8 1/2" W x 11" L detached
Pricing and Ordering
1,000-1,999
2,000-4,999
5,000 or more
Quantity
Order Now!
$ 0.21 each
$ 0.18 each
$ 0.16 each
NOTE: Imprint orders are not returnable unless we have made an error. Please allow approximately 5 - 6 weeks for your order to be processed. Imprint log book orders are subject to a 10% overrun and charge. This overrun is a printing industry standard. The overrun quantity and charge will be added automatically.
Please see Imprinted Log Books standards section of Frequently Asked Questions for more information.

Back to Top
Detailed Vehicle Inspection Reports with Illustrations
Vehicle Inspection and Maintenance Page
Highly Recommended