Classic Series II 63 Quart ARB Fridge Freezer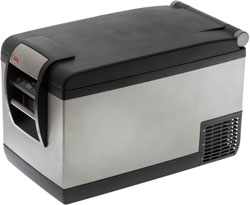 10801602
Perfect For Family Trips or Off Roading As It Keeps Your Food and Beverages Cold.
The ARB 63 Quart Fridge Freezer Series II features a low profile to suit roller drawer systems, larger 4x4s, boats, and camper trailers.
You can have full control of the Series II Fridge Freezer via mobile devices or ARB's LINX. You can turn the fridge on and off, manually adjust the temperature, and display the target temperature, power input voltage, and fridge compressor status.
The Fridge includes a transmitter that allows remote display and control via a new app, which is available for download onto smart devices or ARB's LINX unit.**
Capacity: 63 Quart (90 X 12oz)
Durable Powder Coated Steel Outer Casing
Gunmetal Grey & Black Color
Controllable by Fridge Freezer Connect App via Mobile Device or ARB's LINX
Keeps Food & Beverage Cold
Dimensions:

All exterior and internal dimensions remain the same as the Series I Fridge Freezers.

Performance:

Carried over the proven performance of the Series I Fridge Freezers utilizing the existing compressors and associated cooling components.

Functionality:

All the existing features and benefits such as removable lid, reversible basket, mounting points etc. were carried over from Series I Fridge Freezers.
Capacity
Cooling Capacity:
Power:

Built-In 12/24V DC And 100-240 AC Power Integrated Battery Protection System

Current Draw:

0.85 Amps/Hour
Average Power Consumption Tested At 37.4°F Cabinet Temperature
Ambient Temperature Range: 78.8°F - 87.8°F
Test Duration: 66 Hours
Supply Voltage: 12V DC

Transmitting module:

Bluetooth connectivity allows 2-way communication on SII fridges and 1-way display on SI fridges

External Dimensions:
Internal Dimensions:

Fruit & Dairy Compartment: 5"H X 14"W X 6"D
Main Compartment: 12.6"H X 14"W X 18.8"D

Weight: 54lbs
Display The Target Temperature, Power Input Voltage, Fridge Compressor Status, and Alert The User If Lid Is Open
Separate Compartment for Fruit & Dairy
Reversible Basket with Divider
12 Volt Power Input Readout For Simple Voltage Monitoring On Display
Removable Lid with Integrated Seal
Settings can be adjusted from the app such as:

Turn the Fridge On/Off
Put Into Standby
Display Brightness
Battery Protection
Unit Measurement (°C or °F)
Preset Temperature Settings

Note: For Classic Series I (post-2014 models), the new transmitter and app can be used to display the temperature, input voltage, and compressor status.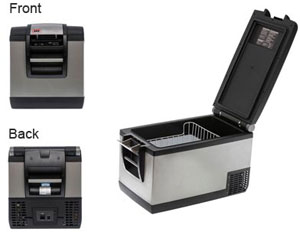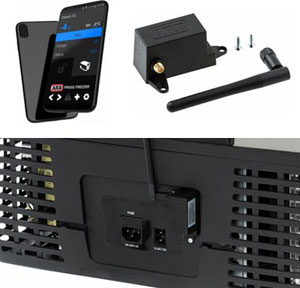 Back to Top
12-Volt Fridge Freezers & Accessories
Back to Truck Products
Highly Recommended