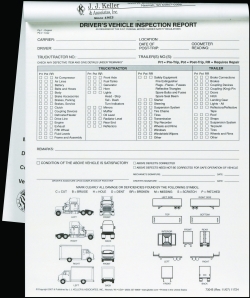 Click to enlarge
Detailed Driver Vehicle Inspection Reports with Illustrations
Detailed Driver Vehicle Inspection Reports with Illustrations list specific vehicle parts to help simplify inspection... drivers simply check-off parts that need repair.
Illustrations aid report accuracy and save time, by helping drivers locate and identify areas of the vehicle with damage or deficiencies.
These DVIRs are available in 4 styles - each for a different type of vehicle with its own specific checkpoints and illustrations.
All available in any of book format and snap-out format all detached, either with carbon or carbonless, stock or imprinted.
Detailed DVIR with Illustrations - Truck and Tractor/Trailer
Product Code
# of Plies
Carbon
Format
Size
Pricing
Quantity
Order Now!
11727/730-FS-C2
2
No
Snap-out
8 1/2" W x 11" L
11724/730-B
2
No
Book
8 1/2" W x 11" L
Detailed DVIR with Illustrations - Tanker
Product Code
# of Plies
Carbon
Format
Size
Pricing
Quantity
Order Now!
11728/731-FS-C2
2
No
Snap-out
8 1/2" W x 11" L
11725/731-B
2
No
Book
8 1/2" W x 11" L
Detailed DVIR with Illustrations - Refuse Vehicle Inspection Report
Product Code
# of Plies
Carbon
Format
Size
Pricing
Quantity
Order Now!
13929/157-FS-C2
2
No
Snap-out
8 1/2" W x 11" L
13928/157-B
2
No
Book
8 1/2" W x 11" L
Detailed DVIR with Illustrations - Roll-On/Roll-Off Inspection Report
Product Code
# of Plies
Carbon
Format
Size
Pricing
Quantity
Order Now!
13935/159-FS-C2
2
No
Snap-out
8 1/2" W x 11 3/4" L
159-B
2
No
Book
8 1/2" W x 11" L
Highly Recommended