Dometic CRX-50 1.7 Cu Ft Refrigerator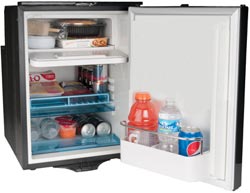 A compressor refrigerator that has a separate compartment that is ideal for storing fresh fruit and vegetables. It has also a removable freezer compartment that can be conveniently removed to make room for more fridge storage.
It has an average running time 23% at 68°F ambient temperature, 35% at 86°F ambient temperature, both at 41°F interior temperature.
1.7 Cubic Feet Refrigerator
Removable Freezer Section
Power Consumption: 40 watts
Speed Controlled Coolmatic Compressor – Hi/Mid/Low
Runs on 12/24 Volts DC Power Source
Fully hermetic
Average running time:

23% at 68°F ambient temperature
35% at 86°F ambient temperature
both at 41°F interior temperature

Material

Stainless steel fittings
Plastic Interior
Door Frame in plastic body with coated metal frame

Cut-Out Dimensions: 15"W x 21"H x 19.3"D
Weight: 42 lbs.
1 Year Warranty
CRX-50 Refrigerator
$ 550.00
CRX-50 & Installation Kit
for Freightliner
$ 590.00
CRX-50 & Installation Kit
for Freightliner Cascadia
$ 650.00
CRX-50 & Installation Kit
for International Pre-2002
$ 560.00
CRX-50 & Installation Kit
for International 2002 & Later
$ 700.00
CRX-50 & Installation Kit
for International Prostar
$ 650.00
CRX-50 & Installation Kit
for Kenworth & Peterbilt
$ 580.00
CRX-50 & Installation Kit
for Kenworth T680/T880
$ 590.00
CRX-50 & Installation Kit
for Peterbilt 579
$ 590.00
CRX-50 & Installation Kit
for Mack
$ 560.00
CRX-50 & Installation Kit
for Volvo
$ 560.00
Low-voltage protection
Insulation CFC-free polyurethane
Infrared Sensor for inner illuminating
Fridge Interior is Well Organized with - Shelves
Electronic Temperature Sensor and Controls
Electronic Fuse or Automatic Reverse Pole Protection
Mechanical, Continuously, Variable
Electronic Thermistor
Cooling System: Tube and Fin Condenser
Provides enhanced cooling performance, durability and corrosion resistance
Compressor Mounting plate is foamed in place allowing all components to have a direct and solid mount to the cabinet
Color: Black face panel, door surrounding and mount frame with larger center position door handle

Back to Top
12-Volt Fridge Freezers & Accessories
Back to Truck Products
Highly Recommended