Engel MT35 Medium Size 34 Quartz 12-Volt Refrigerator Freezer MT35F-U1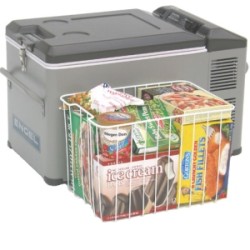 MT35F-U1
The Engel MT35 is a medium sized powerful freezer capable of freezing almost anything. It is ideal for long or short term freezing.
As a refrigerator it can hold a steady interior temperature.
They are great for people on the move - as this unit can be taken anywhere! - all you need is either a 12 Volt power source, like a car battery, or household 110 Volt supply. If you work out of your vehicle - this is a perfect appliance.
Operates off 12/24V DC or 110V AC. It automatically switches power from 12/24 volts DC to 110 volts AC.
It easily works off solar power and only draws a maximum of 2.5 Amps.
Truckers for cooling refreshments
Disaster Relief Workers for nutrition and medical supplies
Campers to keep food frozen or beers chilled
Boaters for making ice cubes
Fire/EMS Departments to refreeze cool vests and store on-scene rehab liquids
Reps on the road for frozen product samples
Fishermen for freezing fish or keeping bait frozen
Biologists for blast freezing test samples in the field
As you probably know, Florida has a law that Requires Vendors who ship to Florida Residences, to charge the Dealer the 6 1/2% Florida Sales Tax. Please OK, this addition Florida Tax in "Customer MSG" box, so as not to hold up your order. See Florida Law Rule 12A-1.091(10) Use Tax.
Power consumption : 0.7 - 2.5 Amps
Equivalent : 54 cans (12 Fl.oz)
Weight : 46.3 lbs.
Inside Dims (L x W x H) : 15.4" x 10.8" x 12.4"
Outside Dims (L x W x H) : 25.5" x 14.3" x 16"
Freezing Ability : From 40°F to 0°F
Temp. control : Variable
Available colors : Gray
Carry handles : Yes
Refrigerant Gas : 134A
Input rating : DC12V - 2.5A; AC 110V - 0.7A
Power Leads : 9' detachable
Fuse : 10A external fuse
Max Noise : 38 dB
Shipping Dimensions : 29" x 17" x 19"
Shipping Weight : 59 lbs.
Warranty : 2 years
Lock Close-up View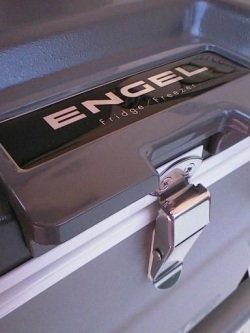 Controls Close-up View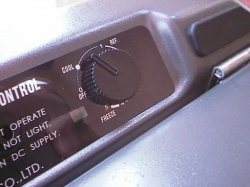 Back View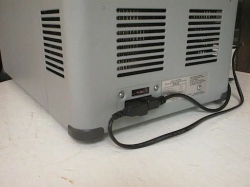 Side View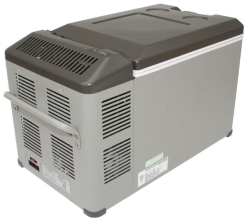 Back to Top
12-Volt Fridge Freezers & Accessories
Back to Truck Products
Highly Recommended