Out of Service Windshield Label Clear Mylar 1306/51-SN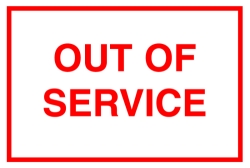 1306/51-SN
Back Side | View PDF Sample
Out of Service Windshield Label Clear Mylar 1306/51-SN is a 2-sided windshield label. One side identifies vehicle's "Out of Service" status. The other side identifies the items to be repaired. It is made of clear mylar with static cling, which is easy to remove once repairs are made.
Size: 6" W x 4" L
Specifications
2 sides
Clear mylar
static cling
Pricing and Ordering
50-99
100-249
250-499
500-999
1,000-1,999
2,000 or more
Quantity
Order Now!
$ 1.54 each
$ 1.41 each
$ 1.24 each
$ 1.01 each
$ 0.97 each
$ 0.81 each
More Labels Here | More Tags Here | More Charts Here | More Posters Here

Back to Top
Vehicle Inspection Tags, Labels, Charts, Posters
Vehicle Inspection and Maintenance Page
Highly Recommended
Track Your Order
Convenience Goods
Must-Haves!