Canadian Driver's Daily Log Book 8578/665-LD
English-only with Carbon Recap Detailed DVIR
In Compliance with Canada's Commercial Vehicle Drivers Hours of Service Regulations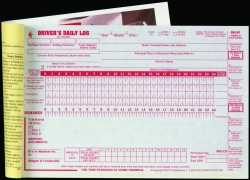 8578/665-LD
PDF Sample Front | Back
This Canadian Driver's Daily Log Book 665-LD is a 2-Ply English-only log book with Recap, Detailed DVIR and Carbon in Book Format. It also includes a monthly log summary sheet and instructions.
This format is 2-Ply English-only log book is useful for Canadian extra-provincial carriers and U.S. carriers operating in Canada. It helps drivers properly record daily log information as required for Canada's Commercial Vehicle Drivers Hours of Service Regulations effective January 1, 2007.
Specifications
English-only
2-Ply
with Carbon
with Detailed DVIR
Book Format
31 Sets
Overall Size: 8 1/2"W x 5 1/2"L detached
Features
Monthly Summary Sheet with Instructions
Pricing and Ordering
25-99
100-199
500-999
1,000 or more
For more price info
Quantity
Order Now!
$ 4.39 each
$ 2.32 each
$ 2.07 each
$ 1.93 each
Contact Us

Back to Top
Canadian Log Books Page
Log Books Main Page
Log Books Comparative Matrix
Highly Recommended
Track Your Order
Regulations Alert !