PLEASE NOTE: In addition to the product ID change, this logbook format has changed slightly due to updated FMCSA IFTA Reporting Requirements. Both "Shipments on Truck" and "Shipments Unloaded Today" where reduced to 2 lines each.
5 in 1 Driver's Daily Logs
Help you comply with driver's record of duty status and vehicle inspection regulations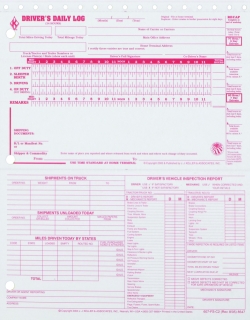 These log books help you save time and effort. The timesaving five-in-one (5-in-1) logs include an hours of service grid with recap, a detailed vehicle inspection report, a "shipments on truck" record, a "shipments unloaded" record, and a "miles driven by state" record -- all in one document! Convenient log completion instructions on back cover reduce the chances of recordkeeping errors that could lead to costly fines.
Log books in this table are/have:
Driver's Daily Log
Detachable Detailed DVIR
"Shipments on truck" record
"Shipments unloaded" record
"Miles driven by state" record
31 Sets for Book Format
Monthly Summary Sheet for Book Format

Back to Top
Log Books Main Page
Log Books Comparative Matrix
Highly Recommended