PLEASE NOTE: JJ Keller Product ID Numbers have changed.
KellerSCAN® Scannable Driver's 2 in 1 Daily Log 8553/815-L
2-Ply Carbonless Simplified DVIR No Recap
Lower the Chances of Violations and Penalties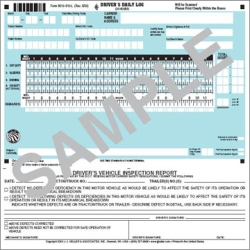 Click Image to Enlarge | PDF Sample
This Carbonless Book Format KellerSCAN® Scannable Driver's 2 in 1 Daily Log 815-L is a 2-Ply driver's daily log book designed for KellerSCAN® Log Auditing Software. It helps lower the chances of violations and penalties. It also has a Simplified DVIR (Driver's Vehicle Inspection Report).
In addition, this log book also features a monthly summary sheet with instructions for the 34-hour restart provision, and a summary of DOT's driver's record of duty status regulations to help simplify compliance.
Carbonless
2-Ply
Simplified DVIR
Book Format
31 Sets
Overall Size: 8 1/4"W x 8 1/2"L
12-99
100-199
200-299
300-499
500-999
1,000-2,499
2,500 or more
Quantity
Order Now!
$ 5.03 each
$ 4.36 each
$ 4.00 each
$ 3.75 each
$ 3.16 each
$ 2.78 each
Contact Us
Back to Top
KellerSCAN® Scannable Logs Main Page
Log Books Main Page
Log Books Comparative Matrix
Also Available...
Highly Recommended