NOTE: We are having a massive price update. The cart is already updated but the website update is still going on. Thank you for your cooperation.
KellerSCAN® California & Texas Rule Set Log 8593/805-LD
2-Ply With Carbon Detailed DVIR No Recap
Improve the Accuracy of your Log Audits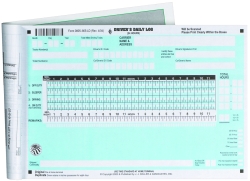 Click to enlarge 805-LD KellerSCAN® California and Texas Rule Set | PDF Sample Front | Back
The KellerSCAN® California & Texas Rule Set Log 805-LD is a 2-Ply with carbon log perfect for KellerSCAN® Log Auditing Software. This log features has a Detailed DVIR. It helps improve the accuracy of log audits.
no Recap
with Carbon
2-Ply
with Detailed DVIR
Book Format
31 Sets
Overall Size: 8 1/2"W x 5 1/2"L
25-99
100-199
200-299
300-499
500-999
1,000 or more
For more price info
Quantity
Order Now!
$ 4.03 each
$ 3.39 each
$ 3.19 each
$ 2.97 each
$ 2.48 each
$ 2.05 each
Contact Us
Back to Top
KellerSCAN® Scannable Logs Main Page
Log Books Main Page
Log Books Comparative Matrix
Also Available...
Highly Recommended