Loose-leaf Form Holder With 3-Ring Binder 3831/717-RVN-BK
With 2 Pockets and 2 Pen Holders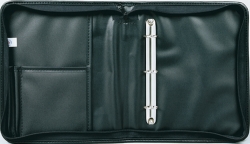 717-RVN-BK
Loose-leaf Form Holder With 3-Ring Binder 717-RVN-BK is a vinyl-made holder that opens with storage and pockets on top, which makes it user-friendly with both right- and left-handed writers. 3-ring binder is spaced to hold all J. J. Keller loose-leaf log pages. The holder also includes 2 pockets for extra logging necessities, and 2 pen holders, and a complete perimeter binding for long life.
Specifications
Color:

Black

Size:

9" W x 101⁄2" L when closed

Can Hold Up To (Log Size) :

8 1/2" W x 6 1/2" L

Material:

Vinyl
Features
2 pockets
2 pen holders
3-ring binder
Pricing and Ordering
3-9
10-24
25-49
50-99
100-249
250-499
More Orders
Quantity
Order Now!
$ 24.82 each
$ 22.84 each
$ 21.01 each
$ 19.96 each
$ 18.96 each
$ 18.39 each
Contact Us

Back to Top
Loose-leaf Binders & Holders
Log Binders, Covers, Holders & Envelopes
Log Books Main Page
Log Books Comparative Matrix
Highly Recommended
Track Your Order
Convenience Goods
Must-Haves!