PLEASE NOTE: JJ Keller Product ID Numbers have changed.
Scannable 100/150 Air Mile Radius Time Record 11116/991-L
For JJ Keller Log Auditing Service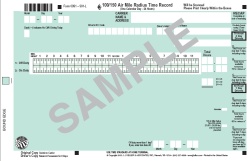 Click to enlarge 991-L
Timesaving logs, designed exclusively for use with our Log Auditing Service, help us automate the capture of log audit data to improve the accuracy of log audits and lower the chances of violations and penalties
Include easy-to-follow instructions to help reduce completion errors
Book format, 31 sets of forms per book
Two plies
Carbon interleaf
Measures 8-1/2" x 5-1/2"
25-99
100-199
200-299
300-499
500-999
1,000 or more
For more price info
Quantity
Order Now!
$ 3.45 each
$ 2.91 each
$ 2.65 each
$ 2.55 each
$ 2.12 each
$ 1.75 each
Contact Us
Back to Top
KellerSCAN® Scannable Daily Logs
KellerSCAN® Scannable Logs Main Page
Log Books Main Page
Log Books Comparative Matrix
Also Available...
Highly Recommended