Rand McNally 5" IntelliRoute GPS TND540LM
New TND540LM helps you prepare for the road ahead, with advanced lane guidance, toll costs and Wi-Fi connected services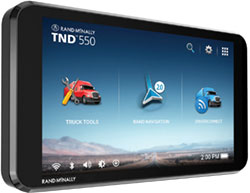 TND540LM
Want a larger screen?
Step Up for The Best Introducing the **NEW** IntelliRoute® TND™ 740LM! Truck GPS - with WIFI Enable
Description
ELD Ready
Preloaded w/ Rand McNally DriverConnect App
Fast Quad-Core Processor
Live Weather Updates
Shows Fuel Prices
Lifetime Maps
Lifetime Traffic Everywhere
Junction View w/ Lane Assist
1 Year Limited Factory Warranty
Enhanced Features

1GB Memory
16GB Storage Capacity
Higher Resolution Vivid LCD Display
Overhauled User Interface
With Easy to Read Icons and Updated map design & POIs
Audio-Out Capability - Enables sound through truck audio systems
Seamless over-the-air updates: Software, Maps, and Construction
Bluetooth capability to pair with ELD 50® and DC 200™ plug-ins

Wi-Fi® Connected Services

Weather
Fuel prices
Local search

Note: User is responsible for all third-party data charges associated with Wi-Fi transmission

Truck Tools

Timers & Mileage
Truck Info
Multi-Stop Routing
Virtual Dashboard
Bread-Crumb Trails
Notepad
Calendar

Truck Content

Millions of POI Listings
Customizable Map Display
Exits Quick View
Select Services
Advanced Lane Guidance
Mile Markers
Rand McNally's proprietary truck data derived from more than 70 years in the commercial transportation industry.

The Rand Advantage

Tell Rand - incorporates driver feedback from suggestions entered right on the device
RoadWork™ - for long-term construction updates
Quick Planner - Time and distance calculator
Cross-references to Rand McNally's printed Motor Carriers' Road Atlas
Toll Costs - View toll costs and compare routes with/without tolls
Battery: 1000 mAh
Map Coverage: U.S. & Canada
Dimension: 5.31" W x 0.75" D x 3" H
Rand McNally TND™ 540
Vehicle charger
Mini USB cable
Suction cup window mount
Anti-glare screen protector
Quick Start Guide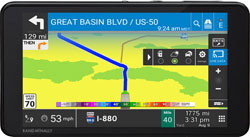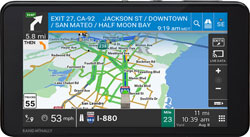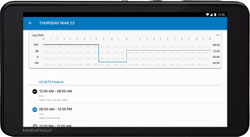 Return Policy on GPS
For those purchasing a Truck GPS, we will waive the No Return Policy on open electronics, for a Limited Return period of 14 days from purchase or 5 days from delivery with a 15% restocking fee, regardless of the reason for the return. You must make the return request within the time allowed and it must be retuned within the following 7 days. Please Note: No return means no return for refund. Naturally you can return it for repair or replacement for the warranty period.
Limited Return within 14 Days of purchase or 5 days after delivery with a 15% restocking Fee. Note: Scratch or damage the GPS in any way and you bought it. There is a $100 manufacturer's fee for returning a GPS that is anything other than pristine new condition. Note*: The warranty does not include the glass face.

Back to Top
Back to Truck Products
Highly Recommended