Driver Qualification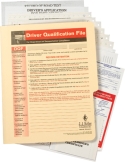 Driver Qualification File Packets - Stand-Alone DQ File
These DQ File Packets include Driver Qualification forms only. Click on the product name, next to Product Code to see the list of forms included. The form formats (i.e. no. of plies, carbonless, etc) are indicated by a letter. See Form format key below for more details.
For more details about the product, click on the product code.
Note: All forms are single copy except where noted: (2) = 2 copies, (3) = 3 copies.
| | | |
| --- | --- | --- |
| Form Format Key | | |
| A » 2-Ply, Snap-out, Carbonless | | F » 4-Ply, Snap-out, Carbonless |
| B » 2-Ply, Snap-out, with Carbon | | G » 5-Ply, Continuous pinfeed, Carbonless |
| C » 2-Ply, Individual sheets | | H » 1 Individual sheet |
| D » 3-Ply, Snap-out, Carbonless | | I » 4-Page Format |
| E » 3-Ply, Snap-out, with Carbon | | J » 8-Page Format |
Highly Recommended