TND750 Rand McNally ELD Compatible 7" Trucker GPS
Fully redesigned. Cutting edge. Lightning quick.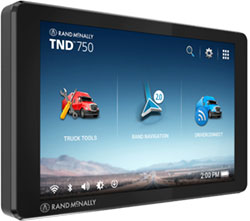 TND750
The fully redesigned TND750. Features Hexa Core Processor for even faster routing and a new sleek design inside and out. It comes with more powerful processing, upgraded magnetic mount, new map displays with 3-D structure views, updated traffic, crowd-sourced POI reviews, and up-to-date fuel prices for an enhanced user experience.
The device is ELD Ready. It comes fully integrated with the DriverConnect platform for a complete fleet management solution.
Life Time Map, Fuel Price, Traffic & Weather Updates
Upgraded Map Display w/ 3D Buildings & Landmarks
Hexa Core Processor: Quicker Responses
New Visuals & Smoother Graphics
Powered by Rand Navigation 2.0
Settings for Truck, Bus, Auto/Light Truck
Voice guidance
Advanced notifications: what's ahead, turns, steep grades, or complicated interchanges
Advanced routing
Compare routes, use multi-stop routing, and place breadcrumbs. Plus, add up to 50 stops per route
Lifetime Maps - Annual basis for your device at no additional cost
Quickly view amenities and fuel stops at upcoming exits
View & track fuel prices on the map
Set service and maintenance alerts for your vehicle
View upcoming junctions in 3-D
Split screen display with lane guidance for managing complex interchanges
View traffic patterns by the day of the week/time and construction updates, even in rural areas
Set warnings for speed limit changes, sharp curves, and more
Show current Weather forecast
View estimated toll costs
compare routes without tolls
plan routes to lower costs
Millions of POI listings
Detailed information on travel centers, weigh stations, service and repair stops
Group and sort by name or distance, add custom POIs, then choose icons to display on the map
View major RoadWork™ updates & construction projects along your route, and calculate detours as necessary
Fully integrated with the DriverConnect platform
Specifications of TND750
Screen size: 7"
Screen type & resolution: IPS LCD, 1280 x 800px
Device dimensions: 4 1⁄2" (H), 7 1⁄4" (W), 3⁄4" (D)
Weight: 16 oz.
Battery capacity: 4000 mAh
Memory: 2GB
Storage: 32GB
Processor: Hexa-core
Bluetooth: 5.0
Wi-Fi: 802.11 a/b/g
Microphone: Single
Aux out: Yes
HDMI out: No
Power connector: On device: Barrel plug
Mount: Magnetic
Includes
TND 750 device
Magnetic mount
Vehicle charger
Wall charger
USB cable
Anti-glare screen protector
Quick Start Guide
Other Photos of Rand McNally TND750 Truck GPS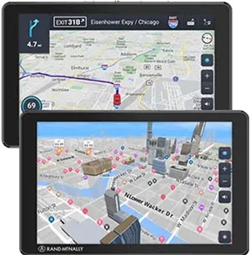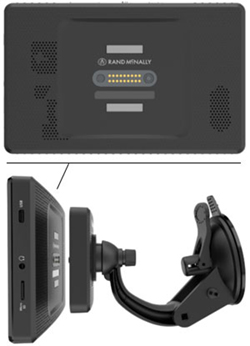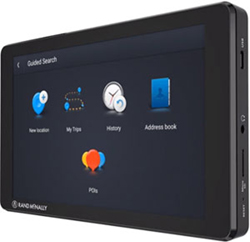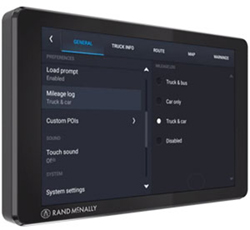 For those purchasing a Truck GPS, we will waive the No Return Policy on open electronics, for a Limited Return period of 14 days from purchase or 5 days from delivery with a 15% restocking fee, regardless of the reason for the return. You must make the return request within the time allowed and it must be retuned within the following 7 days. Please Note: No return means no return for refund. Naturally you can return it for repair or replacement for the warranty period.
Limited Return within 14 Days of purchase or 5 days after delivery with a 15% restocking Fee. Note: Scratch or damage the GPS in any way and you bought it. There is a $100 manufacturer's fee for returning a GPS that is anything other than pristine new condition. Note*: The warranty does not include the glass face.

Back to Top
Back to Truck Products
Highly Recommended