2022 Motor Carriers' Road Atlas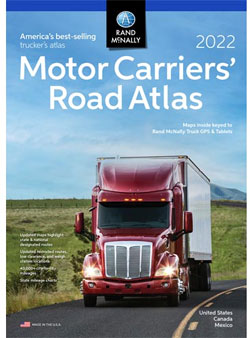 63634
America's #1 Selling Trucking Atlas
American truckers rely on Rand McNally's Motor Carriers' Road Atlas for the most comprehensive highway and trucking information on the market. Helping you save time, money, and stay compliant.
Features
Detailed coverage of state and national designated routes
22-page mileage directory
Includes more than 40,000 truck-route-specific, city-to-city mileage
Updated low clearance, restricted routes, and weigh station locations
Road construction and conditions hotlines
Updated coverage of hazardous materials regulations
Easy-to-use chart of state and provincial permit agency phone numbers and websites
Softbound
208 Pages
Dimensions:10.875" x 15.3215"
Highly Recommended