50-Unit Document Holder
Great for the carrier who has nationwide authority.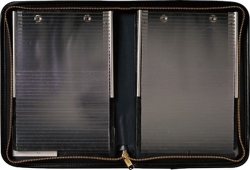 This document holder has one 25-unit flip-file insert snapped into each side of its interior — providing you with the capacity to safely store 50 documents. Full-size pockets behind each file can be used for log books, shipping papers, licenses, or any other forms your river may need to have on hand. Made of padded vinyl, zippered to provide maximum protection.
Overall size is 9 1/2" W x 13" L.
389-R is 25-unit flip-file replacement.
Product Code
Color
Size
Pricing
Quantity
Order Now!
3026/368-RVN-BK
Black
9 1/2"W x 13"L
368-RVN-BL
Blue
9 1/2"W x 13"L
3096/389-R
6 3/4"W x 4"L each pocket

Back to Top
Go Back to Document Holders
Go To Log Binders, Covers, Holders Main Page
Log Books Main Page
Highly Recommended
Track Your Order
Convenience Goods
Must-Haves!