Nylon Padded Document Holder/Route Bag 7932/367-RNY-BK
Zipper closure, clear vinyl pocket
A handy holder for delivery and route drivers.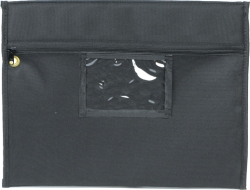 367-RNY
This foam-padded holder Black Nylon Padded Document Holder/Route Bag 367-RNY-BK can be very useful to route and delivery drivers in storing their receipts, cash, clipboards, and more. Its sturdy nylon construction protects paperwork from rain and snow that gets into the truck when the doors are opened. It features a zipper closure on the top and front, and a clear vinyl pocket for displaying a driver's route number or I.D. badge. The front zipper can be sealed with a "Cinch-Up" security seal through the sewn-in grommet.
Specifications
Size:

17 3/4" W x 14" L

Color:

Black

Material:

Nylon
Features
foam-padded
top and front zipper closure
clear vinyl pocket
Pricing and Ordering
2-9
10-24
25-49
50-99
100-249
250 or more
For more price info
Quantity
Order Now!
$ 29.63 each
$ 27.58 each
$ 26.18 each
$ 24.85 each
$ 23.63 each
$ 22.45 each
Contact Us

Back to Top
Document Holders
Log Binders, Covers, Holders & Envelopes
Log Books Main Page
Log Books Comparative Matrix
Highly Recommended
Track Your Order
Convenience Goods
Must-Haves!