Driver's Daily Logs With Simplified DVIR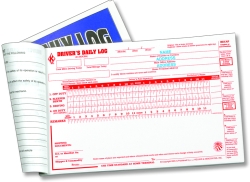 All logs in the table below feature a Simplified Driver's Vehicle Inspection Report (DVIR) printed on the back of each log, a 7- and 8-day recap to help your drivers quickly determine hours available, and can be used for compliance with the current DOT's Hours of Service rule.
Some log books also feature a monthly summary sheet with instructions for the 34-hour restart provision, and a summary of DOT's Driver's record of duty status regulations to help simplify compliance.
601-L, 602-L, and 631-L logs include BOTH required and non-required items plus side recap
611-L and 612-L logs include ONLY required items and side recap.
Log books in this table are/have:
Not Carbonless (with carbon)
31 Sets for Book Format
Monthly Summary Sheet for Book Format
Available in Book Format A, Book Format B and Loose-leaf
Overall Size: 8 1/2"W x 5 1/2"L for Book Formats; 8 1/2"W x 6 1/2"L for Loose-leaf
* Spanish/English

Back to Top
Go Back To Driver's Daily Logs Main Page
Log Books Main Page
Log Books Comparative Matrix
Highly Recommended
Track Your Order
Convenience Goods
Must-Haves!