Black Vinyl Loose-leaf Forms Holder 4179/719-RVN-BK
Soft Black Padded Vinyl 3-Ring Clasp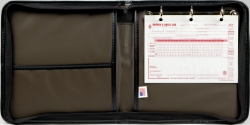 4179/719-RVN-BK
Black Vinyl Loose-leaf Forms Holder 719-RVN-BK holder is made of soft padded vinyl and features a 1" capacity 3-ring clasp. A sturdy nylon zipper allows full enclosure to keep monthly summary envelopes and other recordkeeping items intact — and to keep dirt and moisture out. Sewn-in pocket(s) hold monthly summary envelopes, pens, rulers, calculators, and other supplies. 3-ring holder is positioned on top so there's no need to turn the log holder to the side to make entries. This holder also can be used with the 2 in 1 Loose-Leaf Duplicate Driver's Daily Log 615-FS-B2. Measures 11" W x 11" L when closed. Holds form size 8 1/2" W x 8 7/8" L.
Specifications
Color:

Black

Size:

11" W x 11" when closed

Can Hold Up To (Log Size) :

8 1/2" W x 8 7/8" L

Material:

Vinyl
Features
1" - capacity
3-ring clasp
full enclosure with nylon zipper
horizontal half-pocket on the left
full vertical pocket both on left and right
Pricing and Ordering
5-9
10-24
25-49
50-99
100-249
250 or more
For More Price Info
Quantity
Order Now!
$ 26.48 each
$ 24.29 each
$ 22.43 each
$ 21.40 each
$ 20.21 each
$ 19.68 each
Contact Us

Back to Top
Loose-leaf Binders & Holders
Log Binders, Covers, Holders & Envelopes
Log Books Main Page
Log Books Comparative Matrix
Highly Recommended
Track Your Order
Convenience Goods
Must-Haves!