Fall Protection for Construction DVD Training 52435
Be safe and know the all areas of fall protection.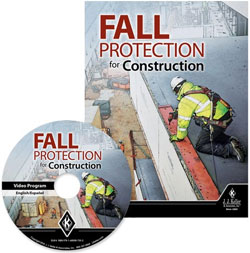 52435
The Fall Protection DVD Training helps learners in the construction industry recognize the hazards of falling and how to minimize them. Fall protection is one of the most frequently cited OSHA violations, due to lack of proper equipment and training. Falls are the leading cause of death among private construction industry workers, accounting for over 35% of all fatalities.
Heights of six feet or greater above a lower level
Any height when working above dangerous equipment
All construction jobsites under CFR 1926 Subpart M, "Fall Protection."
Ready-To-Use Training Program Includes Several Components
Closed-Captioned For The Hearing Impaired
English & Spanish Available All In One Program
What's Included
(1) 20-minute Video - Combines engaging video and editing technology with expertise from industry professionals at all levels

Potential Hazards

Unsafe Environment
Unsafe Equipment
Unsafe Behavior

Fall Protection Systems

Guardrail Systems
Safety Net Systems
Warning Line Systems
Controlled Access Zones
Safety Monitoring Systems
Covers
Falling Object Protection

Personal Fall Protection

Personal Fall Arrest Systems
Positioning Device Systems

Using Fall Protection Safely

Choosing the Right Fall Protection
Attending Training
Inspecting Fall Protection
Using Fall Protection
Storing Fall Protection
Performing Maintenance

Bonus Videos

Note to Trainer Video – Approximately 4 minutes. Available in English only.
Fall Protection Plan Video – Approximately 4 minutes.
10-Question Quiz – Offers correct/incorrect remediation to reinforce effectiveness of training. Approximately 10 minutes. Available in English & Spanish.

(1) Trainer Guide (not sold separately) - Provides you with background information and training tips to make the most of each training session.
(1) Trainer Tools USB (not sold separately), includes:

Main Video Program
Bonus Video

Note to Trainer
Fall Protection Plan

Trainer Guide PDF
Customizable PowerPoint Presentation
Learning Activities
Quiz and Answer Key
Images
Training Log
Training Certificate

(10) Employee Handbooks (English) - Provide a portable, easy-to-understand reference to be used during and after training. Review key points and includes quizzes to check employees' understanding of the material.
(1) Employee Handbook (Spanish) - Provide a portable reference to be used during and after training.
What's Covered
Explain potential fall hazards on the jobsite and describe appropriate ways to eliminate or prevent them
Identify various forms of fall protection equipment and scenarios when each would be appropriate
Recognize how to select, inspect, use, and store equipment properly
Basic System Requirements
A 400 Mhz or faster Intel-compatible CPU
A video card with AGP architecture and at least 4 MB of onboard RAM
At least 128 MB of system RAM (Windows 2000, XP and Vista users - 256 MB or more is recommended)
Windows 98 SE, Windows 2000, Windows Millennium Edition, Windows XP or Windows Vista (most software DVD decoders have either reduced function or no support under Windows 95 and Windows NT 4.0)
The latest version of Microsoft DirectX
DVD-ROM drive (DVD discs cannot be read by CD-ROM equipment)
Highly Recommended