Ladder Safety for General Industry - DVD Training - 50534
Available in English and Spanish.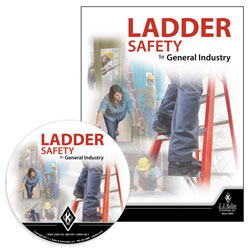 50534
Ladder Safety for General Industry dvd training covers the protective measures and the potential hazards while working w/ ladders. Under the walking working surfaces rule, this program helps to understand OSHA ladder safety requirements
Features
Help Learners Understand OSHA Ladder Requirements
Covers the Potential Hazards and Protective Measures While Working with Ladders
Ladder Safety for General Industry Learners Will Be Able To:

Identify types of ladders and their main components
Recognize potential hazards related to ladders
Describe safety measures to take when using ladders

Ready To Use Training Program
Includes Several Components
Basic System Requirements
A 400 Mhz or faster Intel-compatible CPU
A video card with AGP architecture and at least 4 MB of onboard RAM
At least 128 MB of system RAM (Windows 2000, XP and Vista users - 256 MB or more is recommended)
Windows 98 SE, Windows 2000, Windows Millennium Edition, Windows XP or Windows Vista (most software DVD decoders have either reduced function or no support under Windows95 and Windows NT 4.0)
The latest version of Microsoft DirectX
A DVD-ROM drive (DVD discs cannot be read by CD-ROM equipment)
DVD Main Menu
Play Program - Plays entire main program (17 minutes)
Chapter Selections (access to chapters by topic)

Introduction
Potential Hazards

Intro to Potential Hazards
Unsafe Environment
Unsafe Equipment
Unsafe Behavior
Employer Requirements

Types of Ladders

What is a Ladder?
Portable Ladders
Mobile Ladder Platforms & Stands
Fixed Ladders

Using Ladders Safely

Choosing the Right Ladder
Inspecting a Ladder
Ladder Maintenance
Using a Ladder
Storing a Ladder

Conclusion

Bonus Materials

Message to Management Video (5 minutes)
Quiz - 10 interactive questions; offers correct/incorrect remediation to reinforce effectiveness of training.
Back to Top
Employee Safety Training
Back to Training
Highly Recommended