2022 Deluxe Motor Carriers' Road Atlas
America's #1 Selling Trucking Atlas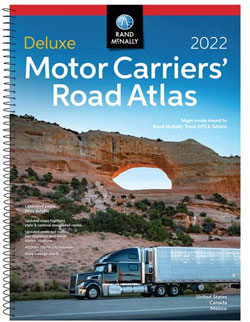 63635
The 2022 Rand McNally Deluxe Laminated Motor Carriers' Road Atlas is durable and stand up to stains and liquids as pages are laminated. Save time and money with this easy to use atlas.
Features
Tough Spiral Binding Allows the Book to Lay Open Easily
22-Page Mileage Directory
Updated Coverage of Hazardous Materials Regulations
Road Construction
Conditions Hotlines
Includes More than 40,000 Truck-Route-Specific, City-to-City Mileage
Detailed Coverage of State and National Designated Routes
Updated Restricted Routes, Low Clearance, and Weigh Station Locations
Easy-to-use Chart of State and Provincial Permit Agency Phone Numbers and Websites
Laminated for Heavy-Duty Users
208 Laminated Pages
Dimensions: 11.25" x 15.375"
Highly Recommended