Trucking Permit Guide 21/1-G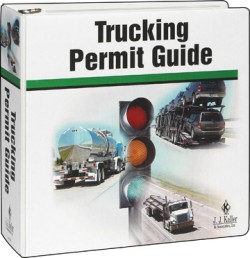 1-G
Keep your vehicles properly permitted and running - without overpaying.
Trucking Permit Guide 21/1-G addresses three major regulatory areas: federal interstate operating authority procedures, vehicle registration, and fuel/mileage taxes and covers federal, state, and Mexican regulatory agencies.
This compliance guide will help all types of carriers comply with the Single State Registration System (SSRS) IFTA, and IRP requirements. Also includes extensive information on external vehicle identification requirements for inter- and intra-state carriers.
Sample forms are included for IFTA, IRP, Federal Operating Authority, HVUT, and SSRS.
Loose-leaf, 3-ring bound, 800 pages
ISBN 0-934674-00-0
| Sample Pages | PDF* | File Sizes |
| --- | --- | --- |
| Table of Contents | | 47KB |
| Colorado Trucking Permit Guide | | 33KB |
| Kentucky Trucking Permit Guide | | 39KB |
| Pennsylvania Trucking Permit Guide | | 45KB |
| Florida Trucking Permit Guide | | 44KB |
| Oregon Trucking Permit Guide | | 42KB |
Note: You must have Adobe Acrobat Reader installed to view the PDF sample pages. If you are not able to view the sample pages, click here to download Adobe Acrobat Reader from Adobe website for FREE.
Highly Recommended