Flip-File Placards 15-Legend Worded Sets Standard Aluminum Panel Unit White Back Plate 3640/608-TPF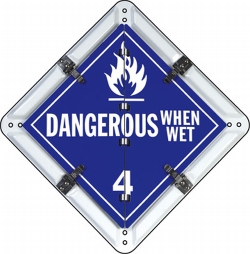 3640/608-TPF
Specifications
These durable flip-file units contain multiple screen-printed legends that meet DOT specifications. Placards feature: .032" back plate to protect against wind, fade-resistant acrylic paint, stainless steel spring clips to hold legend panels securely in place, and rounded corners for easy handling.
15-legend sets include the following legends ...
All White
Combustible (Class 3)
Corrosive (Class 8)
Dangerous
Dangerous When Wet (Class 4)
Flammable (Class 3)
Flammable Gas (Class 2)
Flammable Solid (Class 4)
Inhalation Hazard (Class 2)
Inhalation Hazard (Class 6)
Miscellaneous (Class 9)
Non-Flammable Gas (Class 2)
Oxidizer (Class 5.1)
PG III (Class 6)
Poison (Class 6)
Spontaneously Combustible (Class 4)
Placards measure 13-3/4" x 13-3/4".
Pricing and Ordering
2-11
12-23
24-47
48-95
96 or more
For more price info
Quantity
Order Now!
$ 50.43 each
$ 48.69 each
$ 47.05 each
$ 42.36 each
$ 39.96 each
Contact Us
Highly Recommended