Placard Bumper Bracket: Top-Mount 50902
Securely display placards with Top-mount bracket. Designed for used on bumpers, catwalks, tankers, or trailers. L-shaped heavy-duty bracket provides a durable surface for mount placards.
Measures 19" W x 19.125" H x 2.75" D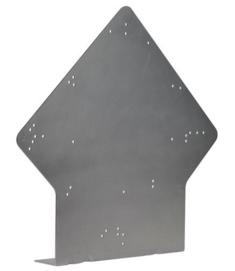 50902
Features:
Created from heavy-duty .125" thick aluminum alloy
Base plate measures 13" wide x 2-3/4" deep and includes six 5mm diameter pre-drilled mounting holes
Pre-drilled mounting holes align with pre-drilled holes on placard holders, flip placards, and aluminum placards
Large size face plate conforms to placard product shapes
provides a solid mounting surface with no placard product overhang
Made in Canada
Also available in White.
Pricing and Ordering
Product
3
4-19
20-49
50-99
100-399
For more price info
Quantity
Order Now!
Gray Polycarbonate Placard Holder 139/2-TPH
$ 29.75 each
$ 27.02 each
$ 24.86 each
$ 23.38 each
$ 22.44 each
Contact Us
Highly Recommended