Riveted Split Aluminum Placard Holder With Back Plate - Unpainted Aluminum 81/1-TPH-D
Reduce mounting and removal time, protect placards from the elements, and reduce placard replacement costs - Unpainted Aluminum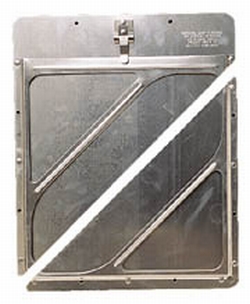 81/1-TPH-D
Specifications
Designed for roll-up doors. One half of the unit is installed on each door section.
The holder is unpainted or painted white .030" aluminum with rivets. Stainless steel spring clip, drain and twelve mounting holes. Use with tagboard placards for maximum flexibility.
Measures 11-7/8" W x 13-3/4" L x 3/16" H.
Pricing and Ordering
4-19
20-49
50-99
100-399
400-999
1,000 or more
For more price info
Quantity
Order Now!
$ 16.96 each
$ 15.73 each
$ 14.34 each
$ 13.83 each
$ 12.58 each
$ 12.48 each
Contact Us
Highly Recommended