Wide-Edge Press-Lock Unpainted Aluminum Placard Holder 10503/10-TPH
Protect placards from the elements and reduce placard replacement costs!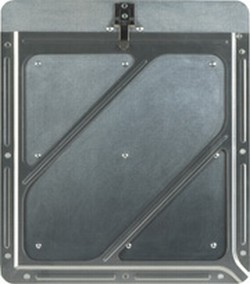 10503/10-TPH
Measuring over 12" wide and over 14" long, the Wide-Edge Press-Lock Aluminum Placard Holder is J. J. Keller's widest aluminum holder. Its 10 pre-drilled holes match the pattern of other popular placard holders making it easy to replace existing equipment.
Specifications
Made of .30" thick aluminum
Front and Back plates are press-locked together
measures 12-1/2" wide x 14-1/8" long.
Featuring a natural aluminum color, it is .55" wider than J. J. Keller's other stocked aluminum placard holders. It
Pricing and Ordering
| 5-19 | 20-49 | 50-99 | 100-399 | 400-999 | 1,000 or more | For more price info | Order Now! |
| --- | --- | --- | --- | --- | --- | --- | --- |
| $ 11.89 each | $ 10.96 each | $ 10.11 each | $ 9.69 each | $ 8.69 each | $ 8.25 each | Contact Us | |
Highly Recommended