Heavy Duty Drive Shaft Service Kit - 20175
For Heavy Duty (Class 7,8)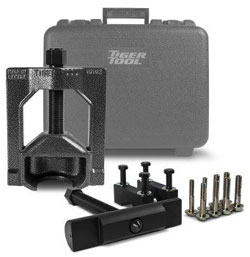 20175
Heavy Duty Driveline Service Kit includes two of our most popular tools for servicing heavy duty drivelines.
Tested and recommended by Driveshaft Division – Dana Corporation.
Note: Failure to check the spherical thrust washer and replace as necessary may result in unrepairable damage to your u-joint puller glove casting. Preventative maintenance as outlined below will ensure many years of use from your tiger tool puller. Failure to perform preventative maintenance will void your warranty.
Highly Recommended