Confined Spaces: Entry Team Training 38331
Available in English and Spanish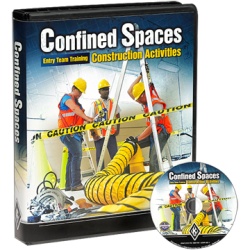 38331
The new OSHA Standard requires that companies that do construction activities must ensure that each of its employees who enter a confined space acquires the knowledge and skill necessary for the safe performance of confined space entry operations
Covers general aspects of working safely in confined spaces while ensuring compliance with the training requirements of the new regulation
Features:
Helps employees meet requirements of the new OSHA
Ready-to-use training program
Includes several components
Closed-captioned for the hearing impaired
2016 Bronze Telly Award Winner
English & Spanish available all in one program
Program Components
(1) 27-minute video – Provides an overview of the new confined spaces regulation; hazards inherent to confined spaces on construction jobsites; precautions that must be taken before a confined space is entered; how to recognize and avoid unsafe conditions; and proper use of required protective and emergency equipment.
(1) Trainer Guide (English only) (not sold separately) – Helps trainers prepare for and deliver effective training sessions and provides an overview of the new standard and the new employer requirements related to it.
(11) Employee Handbooks (10 English; 1 Spanish) Product Codes: 39451, 47369 – This reference reinforces training. It follows the information in the DVD video and provides employees with an easy-to-use, post-training resource. Also provides key definitions (published in the final rule).
(20) Wallet Cards (10 English; 10 Spanish) Product Codes: 39452, 47372 – Provides quick, simple proof that training has been completed. Includes two wallet card sheets, perforated to provide 10 cards each.
(2) Awareness Posters (1 English; 1 Spanish) Product Codes: 39449, 47371 – A full-color, photo-based reminder of the key issues of confined spaces. Helps train "other" construction workers – those who work around confined spaces but are not part of a trained entry team – on the warning signs used to mark confined spaces and what they mean.
(1) Trainer Tools USB (not sold separately)

Main video programs (English & Spanish)
Trainer Guide PDF (English only)
Awareness Poster PDFs (English & Spanish)
Customizable PowerPoint® presentation
Learning activities
Exercises
Quizzes & answer keys
Images
Examples of pertinent forms
Sample confined spaces written plan
Training log
Training certificate

(1) Permit-Required Confined Space Sign Product Codes: 2232 – Danger Permit Required Confined Space Do Not Enter sign meets the requirements of 29 CFR Section 1910.146(c), sign is intended to inform employees of the existence, location, and danger posed by permit-required confined spaces.
(1) Confined Space Entry Permit "Example" Product Codes: 2195 – Used as a starting point to develop company-specific entry permits, includes the 15 elements listed in 29 CFR Part 1910.146(f).
DVD Main Menu
Play Program – Plays entire main program (running time: 30 minutes). Spanish option available for all sections.
Chapter Selections – Allows easy access to specific subtopics for more focused training.

Introduction
Characteristics of confined spaces and the risks of working in them
OSHA requirements that employees need to know
How to stay safe when working around a confined space
Employer requirements for identifying and classifying confined spaces
Hazards of confined spaces:

Physical hazards:

Hazardous energy
Cave-ins
Drowning
Underground utilities
Communication problems
Heat
Noise
Entry and exit difficulties

Atmospheric hazards:

Oxygen deficiencies
Flammable air
Toxic air contaminants

Precautions to be taken before entering a confined space:

The entry permit
Hazardous atmosphere tests
Controlling engulfment, mechanical, electrical and pressure hazards

The confined space entry team and their roles
Safe entry of a confined space:

The steps of a typical pre-entry sequence
The steps of a typical entry sequence, including cancellation requirements
Proper use of required protective equipment
How to recognize and avoid hazards while in the space
Communication requirements

Planning for a rescue:

The steps of a typical rescue procedure
Examples of confined space accidents
Why untrained workers must never attempt a rescue

Bonus Materials

Quiz (10 questions with video remediation)
Note to Trainers (running time: 5 minutes) (English only)
Addresses initial and refresher training requirements for the core members of entry team:
Authorized entrants
Attendants
Entry supervisors
Covers a variety of confined spaces safety and compliance topics:
Overview of new regulation
Hazards inherent to confined spaces on construction jobsites
Precautions that must be taken before a confined space is entered
How to recognize and avoid unsafe conditions
Proper use of required protective and emergency equipment
Highly Recommended