Keller-Soft® Safety Plan Customizer® Version 7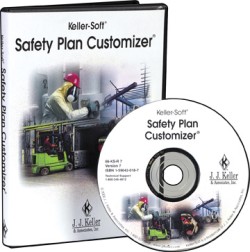 66-KS-R7
Small Network Version (2-10 Users) 67-KS-R7
Single User Version 66-KS-R7
Timesaving software writes OSHA-compliant safety plans for you.
With over 80 pre-written templates for general industry and construction topics, this versatile software makes it easy to write OSHA-compliant safety plans ... Customizer does the work for you!
Simply answer a series of questions to determine which written safety plans you need, then fill in some company-specific information and your plans are created for you! Your plans can be customized however you see fit.
Some of the safety plans you can create with Customizer include:
Accident Reporting and Investigation
Emergency Response
Hazard Assessment
Machine/Equipment Safety and Guarding
Pandemic Flu
Personal Protective Equipment
Recordkeeping and Reporting Injuries and Illnesses
Work Zone Safety
This easy-to-use software also includes:
In-program editing that lets you revise safety plan text
Summaries of individual state requirements
A construction track that separates construction safety plans from general industry
Safety plans for EPA's hazardous waste regs and DOT's oil response mandates
New safety plans:

Safety Committees and
California: Injury and Illness Prevention Program

Automatic "check for updates on the web" feature that supplies updates to the software
Compatible with Windows Vista and Windows 7 operating system
"Ask Keller": a link to Keller regulatory experts for more information on written safety plans
Automatically backs up customers' safety plan data every time the software is closed
Pentium III class or higher processor.
Windows XP, Vista (32- and 64-bit), and Windows 7 (32- and 64-bit) operating system.
Minimum 256 MB RAM to operate.
CD-ROM drive
mouse required.
Compatible printer.
Video with resolution at least 800 x 600 (small fonts), 16-bit color.
Back to OSHA Workplace Safety Keller-Soft® Software
Highly Recommended