OSHA Compliance Manual + Online Edition with 1-Year Update Service 36539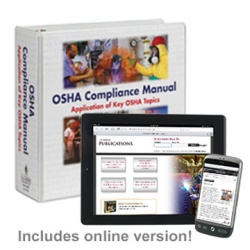 36539
Provides easy-to-understand explanations of OSHA's workplace safety regulations.
OSHA Compliance Manual - Application of Key OSHA Topics 1066/34-M gives you plain-English explanations of workplace safety regulations, making it easy to find answers to hundreds of OSHA compliance questions.
It provides an introduction to OSHA and covers the agency's recordkeeping and training requirements. It also includes helpful extras like samples forms, written plans, and OSHA compliance checklists.
Organized by subject, this quick-find resource deals with key topics from bloodborne pathogens to ergonomics, including ...
Lockout/tagout
Emergency response
Labels, signs, and markings
Inspections
Material handling and storage
Air contaminants
Personal protective equipment (PPE)
Confined spaces
3-ring bound, over 1,000 pages.
ISBN 978-1-60287-574-6
View Samples
| Sample Pages | PDF* | File Sizes |
| --- | --- | --- |
| Table of Contents | | 59KB |
| Personal Protective Equipment | | 64KB |
| Lockout/Tagout | | 61KB |
| Electrical Hazards | | 30KB |
| Labels | | 60KB |
| Inspections | | 135KB |
Note: You must have Adobe Acrobat Reader installed to view the PDF sample pages. If you are not able to view the sample pages, click here to download Adobe Acrobat Reader from Adobe website for FREE.
OSHA Guides, Handbooks and Manuals
Highly Recommended