Backing Techniques: Driver Training Series DVD Training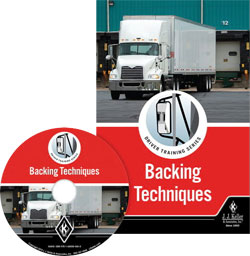 56939
Reduce truck backing accidents by teaching your drivers how to recognize backing dangers and provide expert-level backing procedures. This DVD Training Backing Technique Series is appropriate for all levels of drivers, from the entry-level to the veteran driver.
Covers the Proper Procedures for Backing Maneuver Including:

Straight-Line
Alley Dock
Sight-Side Jackknife
Blind-Side Jackknife Backing
Parallel Parking

Ready-To-Use Truck Driver Training Program
Closed-Captioned for the Hearing Impaired
What's Included
(1) 17-minute video - Combines engaging video and editing technology with expertise from industry professionals at all levels. Divided into two chapters:

Dangers & Guidelines

Backing Dangers
General Backing Guidelines

How to Back Your Tractor-Trailer Safely

Steering Principles
Backing Maneuvers

(1) Trainer Guide - (not sold separately) - Provides information on how to develop, organize, and conduct effective backing techniques training sessions.
(10) Driver Skills Cards - (Product Code: 56859) - Recaps the key points from the training program and serves as a reference tool for drivers to use either before or after the training session.
What's Covered
After completing Chapter 1: Dangers & Guidelines, learners will be able to:

Recognize backing dangers and:

Never back unless necessary
Have patience and use good judgement
Be attentive
Understand the serious damage to trailers, buildings, and equipment
Understand the risk of personal injury – even fatalities
Understand backing accidents are 100% avoidable

Recall general backing guidelines such as:

Eliminate noise
Get out and look
Back slowly
Use a spotter
Open your doors

After completing Chapter 2: How to Back Your Tractor-Trailer Safely, learners will be able to:

Apply good steering principles such as:

Jacking
Chasing
Following
Using push-pull technique

Apply appropriate backing maneuvers such as:

Straight-Line Backing
Alley Dock Backing or Curved Backing
Sight-Side Jackknife Backing
Blind-Side Jackknife Backing
Offset Backing
Basic System Requirements
A 400 Mhz or faster Intel-compatible CPU
A video card with AGP architecture and at least 4 MB of onboard RAM
At least 128 MB of system RAM (Windows 2000, XP and Vista users - 256 MB or more is recommended)
Windows 98 SE, Windows 2000, Windows Millennium Edition, Windows XP or Windows Vista (most software DVD decoders have either reduced function or no support under Windows 95 and Windows NT 4.0)
The latest version of Microsoft DirectX
DVD-ROM drive (DVD discs cannot be read by CD-ROM equipment)
Highly Recommended