Coupling & Uncoupling Driver DVD Training Series 56940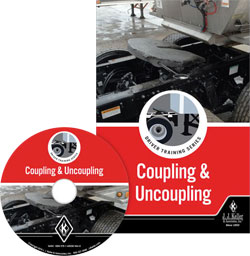 56940
Designed to help drivers understand the techniques that will help them with safely coupling and uncoupling their tractor-trailer. This series is appropriate for all levels of drivers, from the entry-level to the veteran driver.
Features
For Safe CMV Operation:
Covers:
What to look for when inspecting the coupling system
How to make a secure connection
The steps for disconnecting a combination
How to safely operate a trailer's landing gear and the fifth wheel pull release
What's Included
(1) 17-minute video - Combines engaging video and editing technology with expertise from industry professionals at all levels. Divided into two chapters:
Coupling
Inspecting the Fifth Wheel
Getting into Position
Connecting
Getting Ready to Go
Uncoupling
Setting Up
Disconnecting
Completing the Disconnect
(1) Trainer Guide - (not sold separately) - Provides information on how to develop, organize, and conduct effective coupling and uncoupling training sessions.
(10) Driver Skills Cards - (Product Code: 56953) - Recaps the key points from the training program and serves as a reference tool for drivers to use either before or after the training session.
What's Covered
After completing Chapter 1: Coupling, learners will know about:

Inspecting the Fifth Wheel:

Know what to look for
Check its position

Getting into Position

Check the area
Secure cargo
Secure the trailer
Back up and stop before the fifth wheel contacts the trailer
Check trailer height
Supply air to the trailer

Connecting

Apply trailer brakes
Back slowly until jaws close around kingpin

Getting Ready to Go

Tug forward
Secure vehicle
Double check connection
Visually inspect coupling using flashlight
Connect air and electrical if it wasn't done previously
Raise trailer landing gear
Pre-trip the trailer

After completing Chapter 2: Uncoupling, learners will know about:

Setting Up:

Position tractor and trailer on supportive surface
Prepare surface if needed
Secure trailer and ease pressure on locking jaws
Lower and inspect trailer landing gear

Disconnecting:

Disconnect and secure air and electrical lines
Release fifth wheel (use puller/hook if able)
Release tractor air ride pressure

Completing the Disconnect:

Pull tractor partially clear but still under trailer
Inspect trailer landing gear
Pull tractor completely clear
Re-inflate tractor air bags (if equipped)
Basic System Requirements
A 400 Mhz or faster Intel-compatible CPU
A video card with AGP architecture and at least 4 MB of onboard RAM
At least 128 MB of system RAM (Windows 2000, XP and Vista users - 256 MB or more is recommended)
Windows 98 SE, Windows 2000, Windows Millennium Edition, Windows XP or Windows Vista (most software DVD decoders have either reduced function or no support under Windows 95 and Windows NT 4.0)
The latest version of Microsoft DirectX
DVD-ROM drive (DVD discs cannot be read by CD-ROM equipment)
Back to Top
Master Driver Video Series
Driving
Training Main Page
Highly Recommended