CSA Handbook : A Complete Guide for CMV Drivers 27593
Provides a vital on-the-road reference for drivers on CSA issues.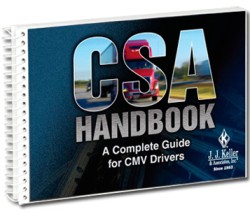 27593
The CSA Handbook : A Complete Guide for CMV Drivers 16438/492-H is the only handbook that covers all information CMV interstate truck and bus drivers need to operate successfully under CSA. It also provides fingertip access to explanations of the seven BASICs, severity tables, and tips for avoiding most common violations; and explains how to prepare for roadside inspections, rights during inspection, what not to do, and steps to take after inspection
This handbook is based on FMCSA's Safety Measurement System (SMS) Methodology and which makes it the deal in-cab reference for helping drivers improve their — and their company's — compliance scores.
Measures 7" x 5-1/16", spiral bound and has 240 pages.
Pricing and Ordering
Product
10-24
25-49
50-99
100-249
250-499
500 or More
For more price info
Quantity
Order Now!
16438/492-H
$ 7.99 each
$ 7.39 each
$ 6.99 each
$ 6.19 each
$ 5.29 each
$ 5.09 each
Contact Us
| Sample Pages | PDF* |
| --- | --- |
| Table of Contents | |
| Driver Fitness | |
| Roadside Inspections | |
Note: You must have Adobe Acrobat Reader installed to view the PDF sample pages. If you are not able to view the sample pages, click here to download Adobe Acrobat Reader from Adobe website for FREE.
Highly Recommended