Drivers Guide To Hours of Service Canada Training, Individual Components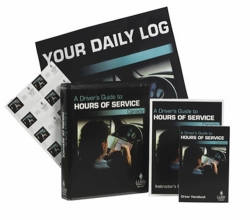 Order additional training components quickly and easily.
Hours of Service regulations help reduce the risk of fatigue-related vehicle accidents. J. J. Keller's Hours of Service Canada: A Driver's Guide helps you understand the "hows" and "whys" of Canada's new HOS regs.
The following individual program components are available for purchase:
Instructor's Guide - Gives essential information and helps record important details.
Driver Handbook - Reviews main ideas and includes receipt page for proof of training.
Canadian Duplicate Log - Includes recap/training evaulation. English.
Awareness Poster - Reminds drivers about hours of service rules.
Wallet Cards - Perforated wallet card sheets provide drivers with proof of training. Sold in sheets of 10. Prices below are per card.
Product Code
Product Name
Pricing
Quantity
Order Now!
11733/427-H
Instructor's Guide

with Training Log

$ 29.95
11732/428-H
Driver's Handbook

with Receipt Page

12038/300-K-P
Awareness Poster
$ 10.49
12212/300-BC
Wallet Cards

Back to Top
Canadian Transportation
Highly Recommended