Federal Motor Carrier Safety Regulations Handbook or Pocketbook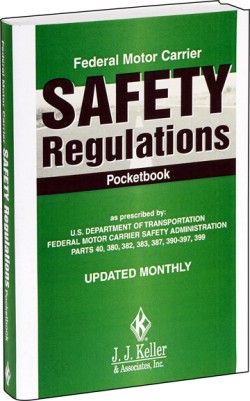 17-H
Give your drivers easy access to word-for-word Federal Motor Carrier Safety Regulations (FMCSRs).
Specially designed for fast reference, these convenient, affordable fleet safety resources contain word-for-word reprints of DOT's FMCSRs.
The pocketbook version provides quick access to up-to-date regulatory information, helping your drivers stay safe, on the road, and in compliance.
The handbook edition features a larger format and provides the same quick access to reg information as the pocketbook. It also includes vital medical reg criteria, regulatory histories, and interpretations, making it an excellent reference for management.
FMCSR Pocketbook
Printed monthly so it's always up to date (View the update summary).
Includes Parts 380, 382, 383, 387, 390-397, 399, and 40 of the FMCSRs
Contains minimum periodic inspection standards
Has a bound-in Driver's Receipt page
Measures 4" W x 6" L, soft-bound. 736 pages. ISBN 978-1-60287-594-4.
FMCSR Handbook
Click here to view the Table of Contents.
Updated quarterly
Includes Parts 303, 325, 350-399, and 40 of the FMCSRs
Intermodal equipment requirements
Contains minimum periodic inspection standards
Medical regulatory criteria
Regulatory histories
Interpretations inserted immediately following the regulation
Excellent reference guide for teaching and management
Measures 8-1/2" W x 11" L, soft-bound (ISBN 978-1-60287-592-0) or spiral bound (978-1-60287-593-7). 608 pages.
All versions include New Entrant Safety Audits regulation information.
The FMCSR Pocketbook and Handbook contain critical regulatory information on a wide range of fleet safety topics, including...
alcohol and drug testing
CDL standards
financial responsibility for motor carriers
driver qualification
safe operation of commercial motor vehicles
hours of service
vehicle inspection, repair and maintenance
hazardous materials
and much more!
Pricing and Ordering
Product
5-9
10-24
25-49
50-99
100-149
150-249
Quantity
Order Now!
Federal Motor Carrier Safety Regulations Handbook Perfect Bound 17-H

$ 14.19 each
$ 13.49 each
$ 12.79 each
$ 12.09 each
$ 11.49 each
$ 10.79 each

Out of Stock-No Expected Date
Product
5-24
10-49
25-99
50-149
100-199
150 or more
For more price info
Quantity
Order Now!
Federal Motor Carrier Safety Regulations Handbook Spiral Bound 7545/17-HSP
$ 24.19 each
$ 23.19 each
$ 22.79 each
$ 21.69 each
$ 20.49 each
$ 19.89 each
Contact Us
Product
15-24
25-49
50-99
100-149
150-199
200 or more
For more price info
Quantity
Order Now!
Federal Motor Carrier Safety Regulations PocketBook 4" x 6" 347/7-ORS-A
$ 5.59 each
$ 5.39 each
$ 4.89 each
$ 4.19 each
$ 3.69 each
$ 3.49 each
Contact Us
Highly Recommended