Hours of Service: A Driver's Guide, 2nd Edition - DVD/VHS Training Program
Shows drivers how to meet logging requirements under the current HOS rule.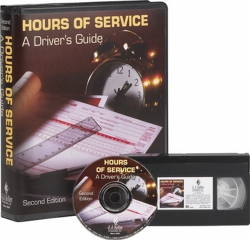 286-DVD-R5
The 286-DVD-R5 has been discontinued.
Hours of Service: A Driver's Guide, 2nd Edition - DVD/VHS Training Program explains the following:
The "whys" and "hows" of the requlations
The 11-hour driving rule
14 consecutive hours on-duty rule
60 hour-7day/70 hour-8 day limits
34-hour restart provision
Commonly misunderstood areas like the sleeper berth rules, on-duty vs off-duty
Short-haul exemptions.
Available on DVD or VHS, J. J. Keller's Hours of Service: A Driver's Guide, Second Edition is for property-carrying vehicles and covers the "hows" and "whys" of logging, and clearly explains the requirements (including the sleeper-berth option and short-haul provision) under DOT's current HOS rule.
This program includes several ready-to-use training tools:
(1) 20-minute, closed-captioned video - Available on DVD (with extra bonus features) or VHS, the program combines engaging video and editing technology with expertise from industry professionals at all levels.
(1) Instructor's Guide - Provides you with background information and training tips to make the most of each training session.
(11) Driver Handbooks - Review key points and include a quiz to check trainees' understanding of the material.
(1) Training Register - Helps trainers record essential details.
(1) Driver Training Log Book - Helps trainees record essential details.
(1) Training Log - Helps trainers record essential details.
(2) Awareness Posters - Hang in a break room or training area to remind drivers that the rules are in effect 24 hours a day, 7 days a week. View posters: Keep it Legal, Keep it Current and Beat Fatigue, Not the System.
(10) Hours of Service Comparison Cards - Compares old regs with the current regs.
Features
Hours of Service: A Driver's Guide, Second Edition is available on DVD or VHS. The content of the main program is the same on VHS and DVD, but with DVD, you'll also get added features!
DVD Main Menu
Play Program - Plays entire main program.
Chapter Selections – Allows easy access to specific subtopics for more focused training.

Introduction
Driving Rules
Completing the Daily Log
Introduction

100 Air-Mile Radius Exemption

The Record of Duty Status
Animated Logging Examples

Sleeper Berth Exception - 2005 Rule Changes

Review of the 11-Hour and 14-Hour Rules
16-Hour Short-Haul Exception

150 Air-Mile Short Haul Exemption - 2005 Rule Change

60/70 Hour Rules
Conclusion

Quiz – 10 interactive questions; offers correct/incorrect remediation to reinforce effectiveness of training.
Is adaptable to a variety of training situations: can be used for group training (with a DVD player and monitor) or individual training (on a PC with DVD capability).
Includes extra "DVD-only" training materials, which adds training options and helps improve trainees' retention.
Displays superior picture and audio quality to keep trainees engaged.
Features instant rewind, fast forward, and search controls to save you time.
Durable disc is not susceptible to magnetic fields and is heat resistant.
Transports easily because of its compact size.
The Basic System Requirements are:
A 400 Mhz or faster Intel- compatible CPU
A video card with AGP architecture and at least 4 MB of onboard RAM
At least 128 MB of system RAM (Windows 2000, XP and Vista users - 256 MB or more is recommended)
Windows 98 SE, Windows 2000, Windows Millennium Edition, Windows XP or Windows Vista (most software DVD decoders have either reduced function or no support under Windows 95 and Windows NT 4.0)
The latest version of Microsoft DirectX
A DVD-ROM drive (DVD discs cannot be read by CD-ROM equipment)
Highly Recommended