Hours of Service Rules for Property Carrying CMV Drivers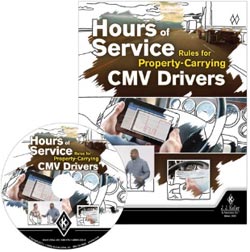 50070
Keep tired drivers off the road to ensure safety. After many hours behind the wheel, fatigue sets in, and it can lead to bad decisions and deadly crashes. For the safety of all drivers, compliance with the hours of service regulations has been required of commercial motor vehicle (CMV) drivers since the 1930s.
With the help of this truck driver training program, you can now comply the FMCSA's Hours of Service Rules.
After completing this program, learners will be able to:

Discuss the purpose and importance of hours of service regulations
Explain how to apply DOT hours of service regulations, including the:

Daily 14-Hour (on duty) Limit, 11-Hour (driving) Limit, and the Mandatory Break Provision
Weekly 60/70-Hour Limit and 34-Hour Restart Provision
Exceptions to the weekly and daily limits

Describe how to comply with the hours of service regulations by:

Managing time spent driving, on duty, and off duty
Maintaining a current, accurate record of duty status

Ready-to-use training program includes several components
Closed-captioned for the hearing impaired
Basic System Requirements
A 400 Mhz or faster Intel-compatible CPU
A video card with AGP architecture and at least 4 MB of onboard RAM
At least 128 MB of system RAM (Windows 2000, XP and Vista users - 256 MB or more is recommended)
Windows 98 SE, Windows 2000, Windows Millennium Edition, Windows XP or Windows Vista (most software DVD decoders have either reduced function or no support under Windows 95 and Windows NT 4.0)
The latest version of Microsoft DirectX
DVD-ROM drive
Specifications
Product Code: 50070
Description: DVD Training
Copyright Date: 2017
Alternate Product Code: 942DVD
ISBN: 978-1-68008-527-3
Language: English
Format: DVD
Program Components
(1) 26-minute Video
(1) Trainer Tools CD (not sold separately) - Includes PowerPoint® presentation that can be used as is or customized, along with learning activities, quiz (w/ answer key), images, training certificate and a training log.
(1) Trainer Guide - Product Code: 50920 - Valuable resource for the trainer that overviews the key points and guidelines covered in the video. Also provides background info on the topic covered in the video as well as training objectives and methods to help trainers create effective and memorable training sessions.
(10) Driver Handbooks - Product Code: 50691 - Handy post-training takeaway that summarizes the key points covered in the video that drivers can store in their truck and reference when needed.
(1) Awareness Poster - Product Code: 49995 - Hang in a break room or training area to provide a daily reminder of the importance of transportation safety and training.
DVD Main Menu
Play Program - Plays entire main program.
Chapter Selections - Allows easy access to specific sub-topics for more focused training.
Introduction
The Limits

14-Hour (on duty) Limit
11-Hour (driving) Limit
60/70-Hour (on duty) Limit
Mandatory Break Provision (8-hour driving limit)

Record of Duty Status

ELD Mandate
Harassment or Coercion of Drivers Prohibited
Required Components
Retention

Exceptions

Mandatory Break Provision
100 Air-Mile Radius
150 Air-Mile Radius (Non-CDL Short-Haul)
16-Hour Short Haul
Sleeper Berth
Adverse and Emergency Driving Conditions
Electronic Logging Devices (ELDs)
Other Exceptions

Conclusion
Bonus Materials

Note to Trainer Video - Total running time: approximately 4 minutes
10-Question Quiz (Interactive) - Total time: approximately 10 minutes
Bonus Videos:

ELD Basics
Exceptions to the HOS Rules
How to Fill Out Paper Logs
Highly Recommended