Rural Driving DVD Master Driver Training Program Video Series 14866/919-DVD
Help your drivers prevent accidents and stay safe on the road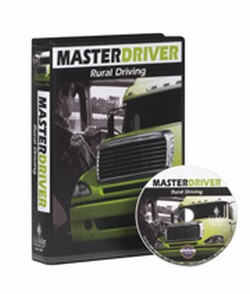 14866/919-DVD
Rural Driving DVD Master Driver Training Program Video Series 14866/919-DVD helps drivers recognize and deal with the unique set of hazards they normally don't contend with when driving on interstate highways.
The program covers:
Sharing the road with school buses, farm equipment, and horse-driven buggies
Tips for handling high-risk situations
Specific driving strategies for safer rural driving
Negotiating passing lanes and passing
How to avoid falling into routine or pattern driving
And more
Features
DVD Main Menu
Play Program - Plays entire main program.
Chapter Selections (access to chapters by topics)

Hazard Perception Challenge - The video opens with a rural driving scenario.
Introduction - Explains the need to re-visit rural driving basics, because nearly twice as many traffic fatalities occur in rural areas than anywhere else.
Rural Driving Defined - Discusses that rural driving presents different hazards and requires a different mindset and a different approach to defensive driving than interstate or city driving.
Getting Ready to Drive - Reviews the critical need to complete a pre-trip vehicle inspection, what should go into planning your route, and checking cargo securement.
What to Avoid En Route - Discusses vehicle breakdowns, highway hypnosis and pattern driving, and how to deal with each.

Common Rural Hazards

Driving - Covers speed & space management issues specific to driving in rural areas.
Passing - Covers passing, being passed and designated passing lanes.
Slow-Moving Vehicles - Covers how to safely deal with other road users.
Animals - Covers how to avoid risky encounters with wild and domestic animals.
In-Cab Distractions - Covers how to avoid becoming a hazard to others.

Conclusion - Emphasizes the need to preparing yourself and your vehicle for a safe drive in rural areas.
Hazard Perception Challenge Answer - The video concludes with a Rural driving scenario.
Quick Review - Provides a quick way to refresh memory on key points of the program to better aid retention.
Commentary – Offers additional interviews by industry professionals.
Bonus Hazard Perception Challenges (3)– Sharpens trainees' skills learned in the video.
Quiz – 10 interactive questions; offers correct/incorrect remediation to reinforce effectiveness of training.
Message for Management - Gives introduction to the training program and topic for trainers/management.
Previews - Master Driver: Pattern Driving
A 400 Mhz or faster Intel- compatible CPU
A video card with AGP architecture and at least 4 MB of onboard RAM
At least 128 MB of system RAM (Windows 2000, XP and Vista users - 256 MB or more is recommended)
Windows 98 SE, Windows 2000, Windows Millennium Edition, Windows XP or Windows Vista (most software DVD decoders have either reduced function or no support under Windows 95 and Windows NT 4.0)
The latest version of Microsoft DirectX
A DVD-ROM Drive
NOTE: DVD discs cannot be read by CD-ROM equipment
(1) Closed-captioned DVD - (with extra bonus features) the programs combine engaging video and editing technology with expertise from industry professionals at all levels.
(1) Trainer Bulletin - Provides background info on the topic covered and gives a brief overview of the video. Also includes a 5-question quiz and handout exercise for drivers.
(11) Driver Skill Cards - Recap key points from the training program and include receipts for you and the driver to document training.
Back to Top
Master Driver Video Series
Driving
Training Main Page
Highly Recommended