Speed & Space Management DVD Master Driver Training Program Video Series 9604/904-DVD
Focuses on 3 critical areas: Distracted Driving, Road Rage & Security.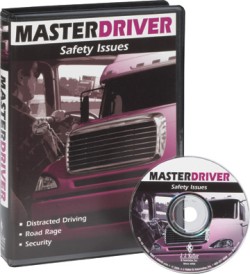 9604/904-DVD | ISBN: 1-59042-454-9
Speed & Space Management DVD Master Driver Training Program Video Series 9604/904-DVD drives home the dangers of speeding and failing to maintain an appropriate space cushion. This training helps raise safety awareness in drivers, and helps them develop the right attitude to drive safely and efficiently.
Areas covered include
driving too fast (and too fast for conditions)
speed and curves
appropriate following and stopping distances
handling hazards around the vehicle
and more.
Features
DVD Main Menu
Play Program – Plays entire main program.
Chapter Selections – Allows easy access to specific subtopics for more focused training. (Items in boldface are actual menu selections.)

Hazard Perception Challenge Question – The video opens with an erratic driving scenario.
Introduction – Explains that as a professional driver, it's critical to always maintain the right speed and to manage the space around your vehicle.
Speed Management – Discusses how the best way to manage your speed and space is to make sure you always have enough stopping distance, and reviews the factors (perception distance, reaction distance and braking distance).
Space Management – Reviews what to look for in front of, behind, on both sides, above, and below your rig.
Conclusion – Emphasizes the need to leave yourself adequate room to stop at all times, and to maintain a space cushion around your vehicle.
Hazard Perception Challenge Answer – The video closes with an erratic driving scenario.

Review – Provides a quick way to refresh memory on key points of the program to better aid retention.
Commentary – Additional interviews of industry professionals.
Quiz – 10 interactive questions; offers correct/incorrect remediation to reinforce effectiveness of training.
Message for Management – Gives introduction to the training program and topic for trainers/management.
Previews – Offers a sneak peek at a related training program.
A 400 Mhz or faster Intel- compatible CPU
A video card with AGP architecture and at least 4 MB of onboard RAM
At least 128 MB of system RAM (Windows 2000, XP and Vista users - 256 MB or more is recommended)
Windows 98 SE, Windows 2000, Windows Millennium Edition, Windows XP or Windows Vista (most software DVD decoders have either reduced function or no support under Windows 95 and Windows NT 4.0)
The latest version of Microsoft DirectX
A DVD-ROM Drive
NOTE: DVD discs cannot be read by CD-ROM equipment
(1) 11-minute, closed-captioned video - Available on DVD, the program combines engaging video and editing technology with expertise from industry professionals at all levels.
(1) Trainer Bulletin - Provides background info on the topic covered and gives a brief overview of the video. Also includes a 5-question quiz and handout exercise for drivers.
(11) Driver Skill Cards - Recap key points from the training program and include receipts for you and the driver to document training.
Back to Top
Master Driver Video Series
Driving
Training Main Page
Highly Recommended