Transportation Safety Answer Manual + Online Edition w/ 1-Year Update Service 36498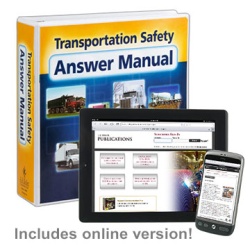 36498
Get fast answers to your regulatory and safety questions -- save hours of research time.
Tired of dealing with confusing regulatory lingo? Get this easy-to-understand manual. By providing quick-read summaries of DOT regulations and fleet safety topics, this manual gives you to-the-point answers to your regulatory and safety questions.
The Transportation Safety Answer Manual covers more than 114 subjects, including the following:
CSA*
Driver qualification
Hours of service
Transporting hazardous materials
Accidents
Alcohol & drug testing
Whistleblower protection
For each of the manual's major topics (such as hours of service), you'll get important background information, including the regulatory citation, who the regulation protects, the purpose of the regulation, and when the regulation is in effect.
Plus, for each of the manual's sub-topics (such as 11-hour driving rule), you'll get the regulatory citation (if applicable), an overview, exceptions, and a list of related regulations so you'll know where to look for additional information.
*A new chapter called "Safety Fitness" has been recently added to this manual. This chapter addresses Comprehensive Safety Analysis 2010 (CSA), the Federal Motor Carrier Safety Adminstration's new enforcement and compliance program. Topics addressed in this chapter include the BASICs, Carrier Intervention, Driver Enforcement, Driver Profile and Safety Measurement System (SMS).
Loose-leaf, 3-ring bound. 550 pages.
ISBN 1-877798-64-9
| Sample Pages | PDF* | File Sizes |
| --- | --- | --- |
| Table of Contents | | 58KB |
| Hours of Service | | 49KB |
| Driver Qualifications | | 40KB |
| Alcohol & Drug Testing Table of Contents | | 51KB |
| Alcohol & Drug Testing | | 57KB |
Note: You must have Adobe Acrobat Reader installed to view the PDF sample pages. If you are not able to view the sample pages, click here to download Adobe Acrobat Reader from Adobe website for FREE.
Highly Recommended