Truck Driver Handbook Pocket-sized 17-ORS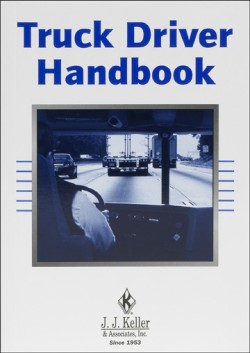 17-ORS
Pocket-sized to go wherever your drivers do!
This portable resource gives drivers practical, direct information they can use every day.
Loaded with valuable information that's used on a day-to-day basis, the Truck Driver Handbook serves as a great introduction and is a must-have for every new driver.
Written for the driver in an easy-to-read, plain English format, this handbook deals with numerous topics and areas of concern:
Addresses common safety issues drivers need to know about.
Offers a simple overview of safety information in an easy-to-use, easy-to-read format.
Aids in understanding safety regulations that impact daily truck operation.
Includes illustrations, best practices, and safety pointers for new drivers.
Makes it easier to learn and retain the information included.
Written to make drivers more aware of their image and as a professional driver.
Can help foster positive relations between the driver and the public.
Perfect bound, 4" x 6", and 116 pages. Copyright 2005.
Pricing and Ordering
10-24
25-49
50-99
100-149
150-349
350 or more
Quantity
Order Now!
$ 3.75 each
$ 3.55 each
$ 2.85 each
$ 2.49 each
$ 2.29 each
$ 2.05 each

Discontinued
Highly Recommended