Vehicle Sizes and Weights Handbook 14077/520-H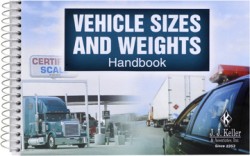 14077/520-H
All the needed size and weight info in one place, listed by state and province.
The easy-to-use Vehicle Sizes and Weights Handbook 14077/520-H, designed for professional drivers of tractor-trailers and straight trucks, is also an excellent reference for transport trainers, dispatchers, and safety managers.
Organized by state and province, this convenient handbook provides facts, best practices, practical tips for managing size and weight issues, plus helps drivers determine lawful ways to configure their tractor-trailers or straight trucks.
This low-cost guide:
replaces scattered, complex size and weight information in atlases with clear, easy-to-use tables
provides all legal size and weight information in one place and listed by state and province
lay-flat design allows easy use while referencing a map or atlas.
Spiral bound, 7" x 5", 178 pages.
ISBN 978-1-60287-364-3
Pricing and Ordering
7
8-9
10-24
25-49
50-99
For more price info
Quantity
Order Now!
$ 10.99 each
$ 10.89 each
$ 10.59 each
$ 9.99 each
$ 8.89 each
Contact Us
This single-source handbook features an overview of tractor-trailer sizes and weights compliance requirements for all 50 states and Canada. It includes ...
U.S. federal bridge formula and table
U.S. kingpin to rear axle limits table by state
Vehicle size and weight limits for U.S. and Canada
Weigh station locations
Idling restrictions
Tire chain requirements
Speed limits
State and provincial size and weight contact information
English/metric system common conversions
Handbook Size: 7" x 5"
Spiral bound, 178 pages (bond paper)
Cover is a coated card stock
| Sample Pages | PDF* | File Sizes |
| --- | --- | --- |
| Table of Contents | | 24KB |
| Size and Weight Limits - Kentucky | | 24KB |
| Weigh Scales - Kentucky | | 24KB |
Note: You must have Adobe Acrobat Reader installed to view the PDF sample pages. If you are not able to view the sample pages, click here to download Adobe Acrobat Reader from Adobe website for FREE.
Highly Recommended