THPW3000 - Professional Grade Pure Sine Wave Power Inverter Install Kits
The power inverter that is low maintenance and no special tools require. It's easy and quick to install.
Professional Grade Pure Sine Wave Inverter Kits comes with the proper size wiring. It cost more but in the long term, they are more cost effective. It can run just about all appliances, can be used on regular basis, and produce less heat.
DriverLogBooks recommends that you consider Kit 2, unless you have a 300 Amp fuse to protect wiring and Inverter from possible shorts. Kit 3 also includes a Thor battery isolator which will keep your main starting battery from being drained, should battery voltages drop below 12.7 volts.
3,000 Watts Continuous Output Power
6,000 Peak
Pure Sine Wave Power Inverter
Professional Grade Install Kit
2 10 Ft 3/0 Power Cables
TH001 Remote
4 - 6 Lugs
300 Amp fuse (Kit 2 & Kit 3)
500 Amp isolator (Kit 3)
Gross Weight: 15 lbs.
Net Weight: 14.5 lbs.
Dimensions:
Warranty: 2 Years
High Performance
Highest Safety Level
High Quality Construction
Best Efficiency
Complete Quality Install Kits
Quick, Easy, and Safe Installation
Prevents Overheating
Low Maintenance
Compact and Strong
Advanced Technology
Avoid Added Maintenance Costs or Damages
Allows Connection from Power Inverter to Battery Bank
Continuous 3,000 Watt THPW3000 Pure Sine Wave Power Inverter
2 - 10 ft. of 3/0 cable
TH001 Remote
4 - Wiring Lugs
Continuous 3,000 Watt THPW3000 Pure Sine Wave Power Inverter
2 - 10 ft. of 3/0 cable
TH001 Remote
6 - Wiring Lugs
300 Amp fuse
Continuous 3,000 Watt THPW3000 Pure Sine Wave Power Inverter
2 - 10 ft. of 3/0 cable
TH001 Remote
6 - Wiring Lugs
300 Amp fuse
500 Amp Isolator
Installation Diagram

Connect Cables included with the kit to the back of the inverter
Connect Cables included with the kit to your battery or power source. (Battery not included)
Turn your THOR inverter ON using the ON/OFF switch or remote
Battery Isolator Wiring Diagram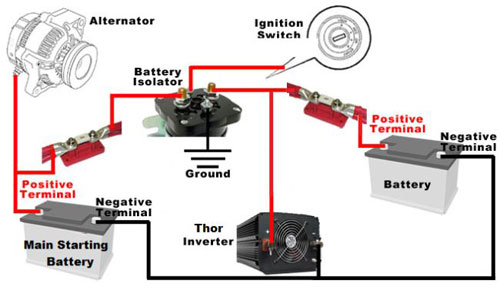 Highly Recommended