Engel MT45 43 Quarts 12V Fridge/Freezer w/ Digital Control Temp.
Engel Medium ACDC Refrigerator Freezer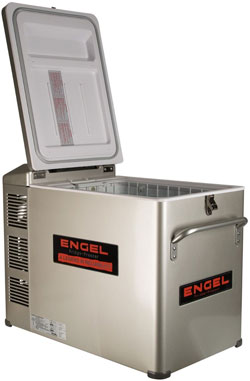 MT45F-PLAT
Engel 43 Quarts features a Digital Control Temperature, built-in battery and has an ability to auto switch power
User Friendly Digital Controls
LED Display Temperature
Capacity: 43 Quarts
Interior Lights
Built-In Battery Monitor
Power Auto Switching
Thermostatically Controlled Fan
Warranty: 3 Years
Fishermen - freezing fish or keeping bait frozen
Truckers - for cooling refreshments
Boaters - for making ice cubes
Reps on the road - for frozen product samples
Campers - keep food frozen or beers chilled
Fire/EMS Departments - refreeze cool vests and store on-scene rehab liquids
Remote Cabins - works well off wind and solar generator
Biologists - for blast freezing test samples in the field
As you probably know, Florida has a law that Requires Vendors who ship to Florida Residences, to charge the Dealer the 6 1/2% Florida Sales Tax. Please OK, this addition Florida Tax in "Customer MSG" box, so as not to hold up your order. See Florida Law Rule 12A-1.091(10) Use Tax.
Capacity: Holds 60 - 12 oz. cans (2 1/2 Cases, 43 Qts/40.7 L)
Power Consumption: Variable from 0.7-2.5 Amps (12V DC)
Input Power: 12 Volt, 24 Volt and 120 Volt
Dimension:

Outside: 25.5" L x 14.3" W x 20" H (Excludes Handles = 1.5" Each)
Inside: 15.4" L x 10.8" W x 16.4" H

Weight: 66 lbs.
Gas Type: HFC134-A
External Shell Material: Galvanized Steel
Digital Control View

Inside View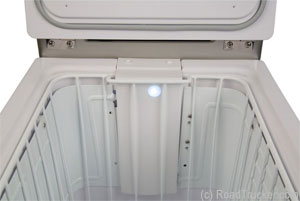 Side View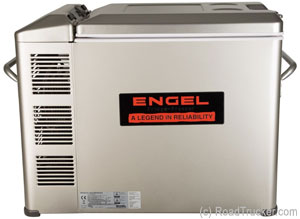 Rear View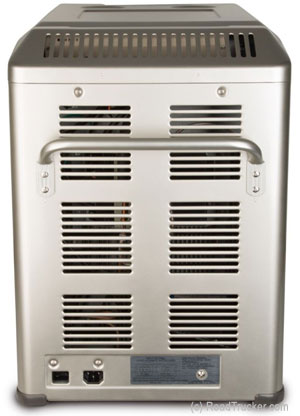 Back to Top
12-Volt Fridge Freezers & Accessories
Back to Truck Products
Highly Recommended