SKYPRO LTE Outdoor w/ Interior Core Wifi Router
FREE SHIPPING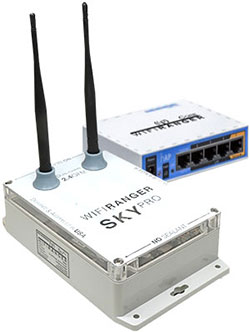 11-PROLTEPKV3
Get the best of both Cellular and WiFi interconnectivity with the SKYPRO LTE. With the maximum range of 1.5 miles, you can access wifi in places you could never get before. The integrated LTE provides Cellular connectivity, making for an amazing internet everywhere solution combined with the outdoor WiFi signal boosting capabilities. You can now enjoy surfing and watching online videos wherever you are.
The SKYPRO LTE is designed for mounting to the roof of your Truck or RV which improves the signal reception and internet speeds and also it optimize the internet between WiFi and Cellular.
The 30 feet Ethernet cable needs to run to the inside of the RV or Truck and plug it into the Core's 110V AC POE Power Supply port.
What You Should Know About Mobile WiFi
Create Secure Network in Truck, RV or Boat
Up to 1.5 Miles WiFi Range
Boosts & Extends Signal of MiFi or WiFi Hotspots
Flex-guard Antennas
Waterproof & UV Resistant
Comes With LTE Sim Card
Warranty: 3 Years
Note: Max Range reflects optimal conditions with clear line of sight and powerful access points and is not to be expected as the usual range achieved.
Increases The Signal Strength of Weak or Unreachable WiFi Hotspots
Capable of Connecting to WiFi at up to 1.5 Miles Away (Direct Line of Sight)
Helps RV′ers and Trucker′s Stay Online
Increases Security
Provides a secure WiFi network along with USB tethering to 3G/4G Air-cards or MiFi devices
Sky4 Firewall Adds Several Layers of Security to Ensure Safety When Using the Free Internet
Includes SafeSurf™ VPN
Create Private Network
Can Connect All Your Computers, Smart TVs, Mobile Devices, and More
Allows All Computers and Devices to Use a Single Account for Internet Service Rather than Paying for Each Device
Automatically Search for Internet and Reconnect Without Any Need For Manually Controlling the Unit
Share 3G or 4G internet with everything on your network
Embedded LTE Cellular Data
Comes w/ Power Over Ethernet (POE) Output on its port 5 to power and interconnect the SKYPRO LTE
Hardware:

Outdoor Max WiFi Range: 1.5 miles
Outdoor Frequencies: 2.4GHz
Outdoor Built-in LTE Modem: Yes
Cellular Carriers Supported: AT&T, Verizon, T-Mobile, Sprint
LTE Bands: B2, B4, B5, B13, B17
IP67 Rated Outdoor Enclosure: Yes
Vibration Absorbing Mounting: Foam Insulted
Flexible Antenna Design: Flex-guardTM
12vDC to 24vDC Power Supply
Cellular Networks: 3G/4G LTE

Software:

Automated Filtered Login: 1000+ Hotspots
Automated WiFi Profiling: Yes
Automated Failover: Yes
Multi-WAN Internet Bonding: Yes
USB Cellular Tethering: Yes
Data Usage Tracking: Yes
Device Data Limits / Rules: Yes
Secure Web Browsing Mode: Safe SurfTM
Remote Device Access: IR CloudTM
Cellular Networks: 3G / 4G LTE
Sim Card Size: Micro
WiFi Standards: 802.11 b / g / n
Band: 2.4 Ghz / 5.8 Ghz
Max Range: 250 Ft
Lan Ports: 5 LAN (1 x POE)
USB Port: 1 x USB 2.0
Weather Proofing: Indoor Only
Mounting: 2-screw Inserts
Antenna Polarity: 360° (any orientation for proper operation)
Power Input / Draw: 12-24VDC / 17W Max
Weight: 5 oz. (excluding cable)
Dimension: 4.5"H x 3.5"W x 1"D
Operating Temperature: -30° to 70°C
SKYPRO LTE Router
Core Indoor Router
30FT Ethernet Cable
12vDC to 24vDC Power Supply
12 Volt Wire Harness
Sim Card
Installation Kit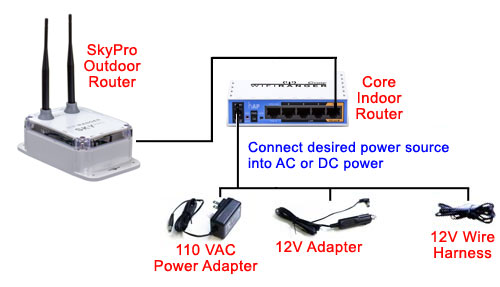 Back to Top
Mobile Wifi Solutions
Back to Training
Highly Recommended