Hazmat Training: What′s Required and How To Comply 36151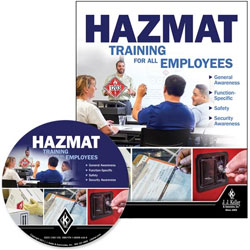 36151
The Hazmat Training: What's Required & How To Comply - DVD Training 36151 provides clear, instructional information for employees regarding "what's required" and "how to comply" with the Hazardous Materials Regulations (HMR) training requirements and Comprehensive training program to help employees understand the requirements of 49 CFR 172.704 for hazmat employee training
Covers 4 types of required training:
General Awareness Training
Function-Specific Training
Safety Training
Security Awareness Training
Walks trainees through the Hazardous Materials Regulations (HMR) to help them understand:
What kind of information can be found in the - Hazardous Materials Table
How markings, labels and placards differ
Why including emergency response info with shipping papers is so important, etc.
Ready-to-use training program includes several components.
Closed-captioned for the hearing impaired.
Highly Recommended