2010 Rand McNally Deluxe Motor Carriers' Road Atlas 409-RD-0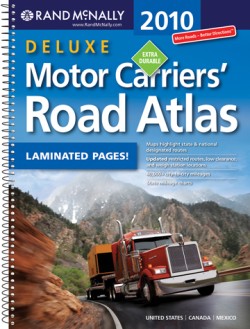 409-RD-0
The 2010 Rand McNally Deluxe Motor Carriers' Road Atlas 409-RD-0 offers you detailed, full-color maps of the U.S., Canada, and Mexico to make trip planning a snap.
It also contains a federal section with information on hazmat regulations, inspection procedures, driver's daily log, and more, to help your drivers stay in compliance.
The 2010 Rand McNally Deluxe Motor Carriers' Road Atlas 409-RD-0 includes ...
Updated restricted routes
Updated low clearance and weigh station locations
40,000+ updated city-to-city mileages
Updated state mileage charts
Updated tax rates
GPS & online companion
Tractor/Trailer inspection procedures
Area code map
Hazardous materials tips and facts
Information on U.S., Mexican, and Canadian Regulations
Hotel/Motel toll free numbers and websites
National Weights and Size Provisions - State/Provincial weight and size limits
State/Province contacts for: Emergencies, vehicle registration, operating authority, weight/size, hazardous materials
And much more
This high-quality road atlas is spiral-bound so pages will lay flat when opened. Laminated pages allow drivers or terminal managers to mark and erase on the atlas with a grease pencil.
Durable pages make this atlas a practical product for over-the-road drivers.
Spiral Bound
Laminated,
11" W x 15-3/8" L.
208 pages.
Published by Rand McNally.
2010 Edition ISBN-10: 0-528-94225-X; ISBN-13: 978-0-528-94259-4

Back to Top
Atlases, Guides, Handbooks, Manuals
Fleet Operations
Highly Recommended