Canadian Driver's Daily Log Book 12111/661-LD
2-Ply English/French with Recap Detailed DVIR
Comply with Canada's Commercial Vehicle Drivers Hours of Service Regulations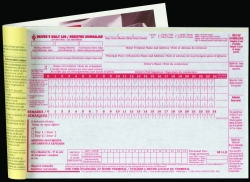 12111/661-LD
PDF Sample Front | Back
This English/French Canadian Driver's Daily Log Book 661-LD is a 2-Ply with Carbon Book Format log book. It also includes a Detailed DVIR on back and monthly log summary sheet and instructions.
This easy-to-use format helps drivers properly record daily log information as required for Canada's Commercial Vehicle Drivers Hours of Service Regulations effective January 1, 2007. This is useful for Canadian extra-provincial carriers and U.S. carriers operating in Canada.
Specifications
2-Ply
with Carbon
English/French
with Detailed DVIR
with Recap
Book Format
31 Sets
Overall Size: 8 1/2"W x 5 1/2"L detached
Features
Monthly Summary Sheet with Instructions
Pricing and Ordering
25-99
100-499
500-999
1,000 or more
For more price info
Quantity
Order Now!
$ 4.74 each
$ 2.51 each
$ 2.24 each
$ 2.08 each
Contact Us

Back to Top
Canadian Log Books Page
Log Books Main Page
Log Books Comparative Matrix
Highly Recommended
Track Your Order
Regulations Alert !